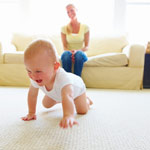 Our technicians have the training to clean almost all types of carpets and rugs from Saxonies, Berbers, and Dhurries to Orientals. Our cleaning solutions are environmentally safe biodegradable organics. The technicians will measure and can give you an exact quote before cleaning if needed.
They will move any and or all furniture that can be moved that you want moved. First step in the cleaning process is to pre-vacuum the entire carpet to remove loose soil. Then they will pre-treat all spots before cleaning the carpet. We have multiple cleaning processes available, so that you may choose the method you prefer over the phone when scheduling, or ask for our help in deciding which method to use. The technician will then clean and extract the solution from the carpet. They will then post spot any areas that may be needed. All furniture will be moved back, and carpet protectors or plastic blocks will be put under any furniture that doesn't have a plastic base. Carpet protectors will prevent metal tips from rusting or wood stains from bleeding until the carpet dries. The technician will then apply the protective finish, and groom the carpet to work in the finish and set the nap for drying.
Any fans or movement of air across the surface will speed up the drying time. This usually takes from 4-6 hours. Do not remove the carpet protectors or plastic blocks from under furniture until carpet is completely dry. Vacuum after it is dry, and on a regular basis to keep up its appearance.